Unlicensed Utah Bail Bondsman Breaking and entering in Utah
Unlicensed Utah Bail Bondsman Arrested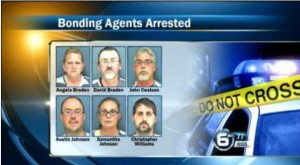 On July 24th, 2014, 6 Unlicensed Utah Bail Bondsman, claiming to be Recovery Agents. First; the agents climbed through a window at a residents in Sevier county Utah to apprehend Richard Vaughn. Mr. Vaughn apparently skipped Bail. The ex-wife of the apparent fugitive, who was home at the time, told the Sevier County Sheriffs officers that the 6 people identified themselves as Recovery Agents. In Addition; They told the woman they were there to arrest Mr. Vaughn. Mr. Vaughn, who was apprehended by the alleged Recovery Agents was taken down to the Sevier county jail. Furthermore; Mr. Vaughan told the Sevier County Sheriffs officers that he had received injuries on his hand and face.
The ex-wife, who was there with her young son; said they had been exposed to pepper spray which caused medical issues.  So; when the 6 people arrived at the Sevier County Jail with Mr. Vaughn, the Jail staff refused to book him because of his injuries and informed the 6 people to take him to the hospital, Mr. Vaughn was later booked into the Sevier County Jail. The 6 alleged Bail Bondsman/Recovery Agents were later indicted by a grand jury for Agg. Burglary. Agg. Assault. & Conspiracy to commit Agg. Burglary & Assault.
Were the 6 Unlicensed Bail Bondsman?
As a Professional Bail Bond Company and Utah Bail Enforcement Agency, this was concerning and Massey's Bail Bonds  further researched it. We contacted BCI; who license all Recovery Agents in the State of Utah, to see if any of the 6 people were licensed, In addition, We Contacted the Dept of Insurance through the State of Utah, who also license all Bail Bondsman and Bail Bond Agencies, to see if any of the 6 were licensed. After checking the records with both BCI and the Dept. of Insurance. Indeed; the 6 were unlicensed Utah Bail Bondsman, none of the 6 ever held any licenses for recovery or Bail Bonding.
Given that none of these people were licensed in the state of Utah, Massey's Bail Bonds wanted to know if they were in violation of State Law or Utah Administrative Rule for making an arrest without a valid state license and claiming they were Bail recovery agents.
Utah Public Safety Code 53-11-107(2)(a) states A person may not act or assume to act as, or represent himself to be, a licensee unless he is licensed under this chapter. Utah Administrative Rule R722-310-3(1)(d) States a "licensee" means an individual who has received a bail enforcement agent license, bail bond recovery agency license, bail recovery agent license or bail recovery apprentice license. Based on the states interpretation of this, none of these 6 people had any legal right to arrest Mr. Vaughn and are subject to criminal penalties.